Tim Britt, Chief Wealth Management Officer, EVP
Mr. Britt leads Trust Company of North Carolina with over twenty-five years of experience in investment management, tax, estate and financial planning as well as administration of various types of employee benefit plans. Prior to joining Trust Company of North Carolina, Mr. Britt worked as a Senior Vice President and Chief Wealth Management Officer for KS Bank Inc. He has also held wealth management positions where he managed a $500 million wealth management division that had $235 million in trust assets.
Mr. Britt graduated from Campbell University with a Trust and Investment Management degree with a minor in Financial Planning, and a Master's in Business Administration. He is also a graduate of the ABA Stonier Graduate School of Banking at the University of Pennsylvania and completed the Wharton Executive Leadership Certification from Wharton School of Business at the University of Pennsylvania. He currently holds an Accredited Investment Fiduciary Analyst designation. He currently resides in Asheboro with his wife, Kim, and has three children.
Ingrid Nelson, Trust Operations Officer, AVP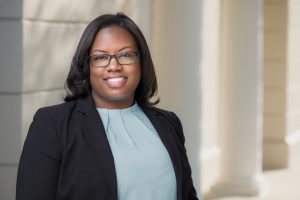 Mrs. Nelson, Trust Operations Officer, joined Trust Company of North Carolina in October 2017 with over 15 years of banking experience in compliance, operations, and executive management. Prior to joining TCNC, Ingrid served as a Compliance Associate for Fidelity Bank. She graduated Cum Laude from University of Phoenix in 2011 with a Master of Business Administration and in 2013 with a Master of Management. She received her Bachelor of Business Administration, Cum Laude, with a concentration in Management from North Carolina Central University.
In her current role, Mrs. Nelson is responsible for the oversight of TCNC's daily operations and compliance matters. Mrs. Nelson assists TCNC's Managing Director in implementing TCNC's investment program. In addition, Mrs. Nelson serves as the liaison with TCNC's vendors and partners.
Ingrid enjoys spending time with her family, traveling, scrapbooking, and going to the movies. She currently resides in Durham with her husband, Emanuel.